Share
There is literally only one way to grow and that is stepping outside of your comfort zone. Most people know this, but most people aren't about it. A lot of people want to grow gradually, never feeling any pain (mental or physical) or having experienced that lost feeling when you have tried and tried what seems to be everything to win, but you are still in the darkness almost stagnant with fear and afraid to move.
It is during those times that you must keep moving, step after step, and begin getting comfortable in an uncomfortable state. Hear that?!
"Get Comfortable, Being Uncomfortable."
It is the only way forward. When I resigned my active duty commission as a Naval Officer, believe me when I say I was on my way to having it all. Some of my superiors thought I had gone mad as some of them literally told me where I would be professionally if I stayed and trust me, while life was great, it was only getting better.
So why did I leave? Why did I begin a journey to start my own business, investment fund, executive coaching, and a few other things?? Well I left because I became comfortable, and I knew once that feeling settled in it was hard to get rid of.
To grow to the top-tier level I wanted to reach, I knew some regular career wouldn't get it done, especially when my promotions and pay are a large part in others hands.
Has it been smooth sailing since I left? Hell no. In fact, I'll be writing an article on the first 90 days of my experience soon, but I'll preface it with this, through all the uncomfortable moments, the sleepless nights up grinding, and trying to piece together this seemingly endless puzzle to business and life, I have exponentially grown.
Here's a quick example of me personally stepping outside of my comfort zone recently…
I have a good friend who is on his way to being America's next top Model, haha, but seriously he is good. Anyway looking to capitalize on all sorts of businesses, industries, and experiences, I thought I'd give it a try. Now I have never modeled, acted, or done anything remotely considered a fine art. I went from playing football, working with adjudicated youth in Detroit, to the Navy SEAL BUD/S program as a student, before finding my way into the Public Relations Community. Before the PR, it was a fair debate to put me into the brute category, so I wanted to experience something different.
Well my friend sent me a casting call invite for models to walk during LA fashion week and of course a day later I was in the car with my cousin and an actual model, headed to the shoot.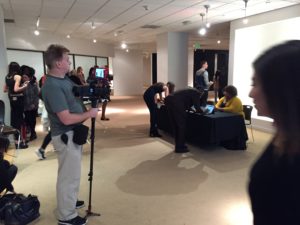 To get to the nitty gritty, let's just say it went exactly as planned! Terrible ha. My cousin Derek, who is a 6'6"/6'7" NFL lineman, and I came unprepared without photos or a resume, and of course the most important thing, a walk. Our model we were body guarding came without heels. So it was safe to say we were getting off to a rough start.
Of course the competition was ready to go and it made us feel uneasy. At first everyone had the same thoughts, and someone let it manifest into words. "I'm not about to do this, I'm ready to go when you are." I thought about leaving, but that would be too easy. So what did we do? Walk…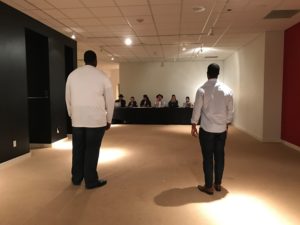 I would love to say it turned out great and I received this newfound attention as the next rising star on the runway, but instead we received blank stares and a couple of thank you's. Our model friend we escorted to the shoot, well of course she received a card and a possible offer, but for me personally…I got a blog post.
While waiting up until the shoot around the other models, who have claimed this as their profession, I was initially uneasy. I even questioned why I was there, but I wanted and needed the experience, not only to see if this is something I would like, but to also get used to being uncomfortable.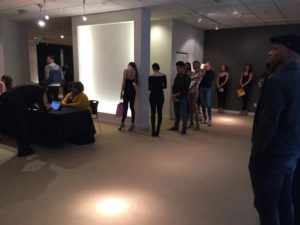 Conclusion
The runway was good training in regards to stepping outside of the norm and doing something totally different—a practice I would highly suggest if you want to continue to grow and not experience some of the mental withdrawals that come along with it. Being uncomfortable is something I think everyone should practice and make a conscientious effort to acknowledge your thoughts, physical and emotional state during the affair. It is only then you can begin to strategically create a process for what works for you when it occurs.
That process teaches you how to identify the discomfort, assess how it makes you think and feel, and how you will proceed to handle the situation before discomfort, as a whole, eventually doesn't faze you. Want to succeed and push past barriers, be bold and live outside of your comfort zone.
And now, what you've finally been waiting for…
How have you left your comfort zone to grow?
Comment, Like, Share, and Subscribe to get the conversation started.
If you enjoyed this article and want to learn more about ascending in your organization make sure to pick up my new book Capture Your Career: How to Get Any Job or Position You Want in 48 Hours or Less available on Amazon now, share, and follow me on Facebook, Twitter, Youtube, and Instagram: @kingblessdotcom
Interested in taking more control over your life, check out Tabula Rasa: What You Must Know About Success, Leadership, & Management.